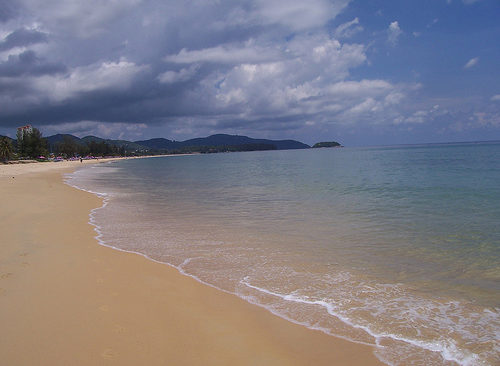 Top Beaches to Visit in Phuket Thailand
The mountainous rainforest stretched over a vast coastline has made this Thailand's island(fact: largest in Thailand) a haven for beach bums. Located in the Andaman Sea, Phuket is filled with resorts where you can swim in stunning beaches, explore blue lagoons and relax in late afternoon sunsets. It has 32 smaller islands where most of the beautiful beaches are found on the west coast.
Having over 30 beaches harboring its coastline, you will never run out of choices when you go to Phuket.
Patong Beach
This is the most popular and also the most crowded beach in Phuket. Attributed to its easy access, this 3-kilometer long white beach is jam packed with tourist where several water sports activities are being offered. You can do kite surfing, jet skiing or go snorkeling at the southern tip of the beach where a nice coral reef awaits you.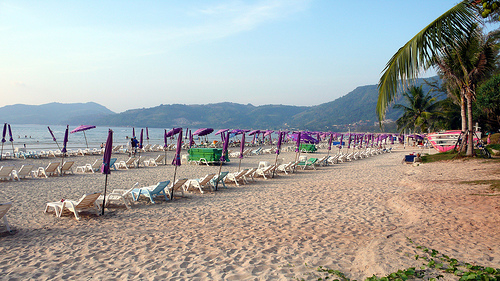 by jbremer57
However, ironic to the meaning of its name which is forest filled with banana leaves, Patong is now sprawling with shops, stalls, restaurants and the night life especially in Bangla road is very much alive.
Kata Beach
If you want to get away of Patong's crowded and busy tourist activities, then head south to Kata Beach where you can enjoy a quiet and relaxing stay in this two-sectioned beach. The larger Kata Yai beach has few standing resorts where the beachfront is usually less-crowded making it a great spot for a family getaway or romantic vacation. You can stroll going to the northern end and enjoy the scenic view of Koh Pu island. Kata Noi beach even has a lesser crowd as most of the beachfront is owned by a single resort making it semi exclusive.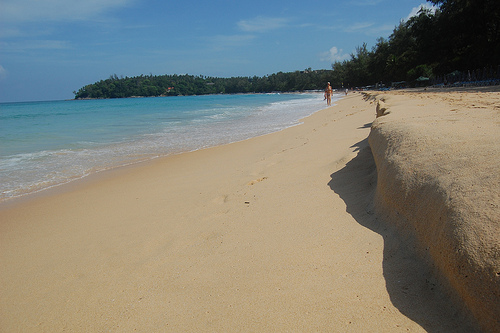 by edwin.11
Non-guests are still allowed to walk and swim this beautiful white beach where you can find a nice snorkeling spot near the southern end. On the other side, the northern end makes a popular spot for surfing where you can ride over good-sized swells during the rainy months.
Karon Beach
Travelling further south will take you to the 4-kilometer long Karon Beach. The beach is quite big and long where only a few resorts are operating with a fair distance from each other. With this, you will never feel overcrowded even if it is during the peak season. Aside from being laid back, another good characteristic of Karon beach is the sand. You will appreciate walking barefoot on the white and powder-quality sand, so fine that it will squeak the moment you step on it.
Sponsored Link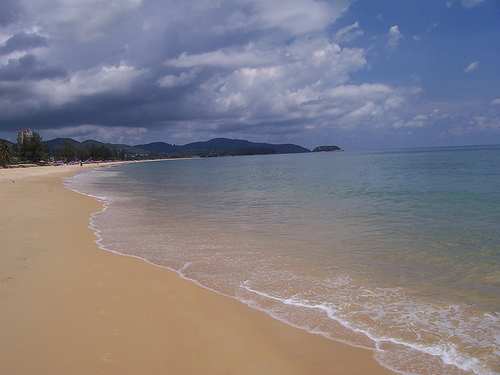 by M0les
Just be reminded of one thing, swimming can be dangerous during the rainy season due to strong rip currents created from large waves. Well, this could be bad for swimmers but this is good news for surfers where you can have the chance to surf in 3 to 5 foot waves.
Other Mentions
There are several nice beaches found in the nearby islands of Phuket. You can sign-up for a chartered trip to Bon Island which is located southeast of Patong beach or the Similan Islands in the northwest where you will not just enjoy swimming in crystal clear waters but also have this rare chance of glimpsing Phuket's underwater beauty.
Sadly, this wonderful paradise was severely damaged by a devastating tsunami last December 2004 which was triggered by a powerful earthquake in the Indian Ocean. After years of strenuous rehabilitation and restoration programs, Phuket is back on its feet and tourism is now lively once again.