Travel to Laos: Interesting and Fun Facts about Laos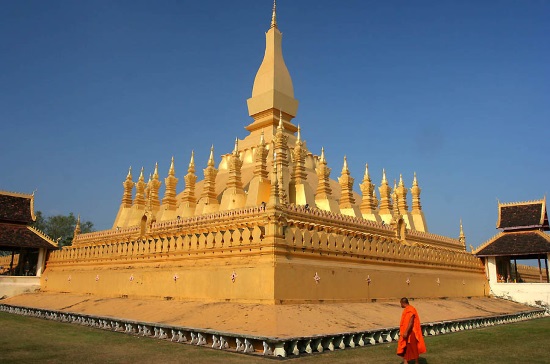 Travel to Laos: Interesting and Fun Facts about Laos
Laos, officially known as the Lao People's Democratic Republic, is a small country in Southeast Asia that is bordered by Thailand, Cambodia, Vietnam as well as Burma. One of the many aspects that make this country a truly interesting one is the fact that Laos is the only landlocked country in Asia.
Interesting Facts About Laos
Phou Bia

 is known to be the highest point in Laos, and even though the view is breath-taking, neither locals nor tourists are allowed to visit it, given the fact that it is still filled with unexploded ammunition;
Many archaeologists consider Laos to be one of the most important

cradles of civilization

– this is where the oldest modern human fossil was discovered, in a cave located in northern Laos. The fossil was carbon-dated and it is believed to be almost 50,000 old, and it is of great archaeological importance;

Kator

is the national sport in Laos – it is a simple yet very appealing game that involves the use of a volleyball, the sole difference is that players must send the ball over the net by using their feet, not their hands;
The

world's longest venomous snake

was discovered in Laos – this is the place where the famous King Cobra was found, which measured no less than 14ft in length. In addition to this, there are numerous Irrawaddy dolphins in the area as well;
Laos has been named the

World's Most Bombed Country

, as more than 2,000,000,000 bombs were dropped here during the infamous Vietnam War;
The country is well-known for its coffee export – approximately

three quarters of all Laotians work in agriculture

.
Laos is also known for its own version of Snake Whiskey, popular in some parts of South East Asia.
More Info on Laos
This is one of backpacking adventure travellers' most favorite countries, and that is understandable given the fact that Laos is known for its adventure tours, cycling tours and appealing wilderness.  Some of the country's most populous cities are
Vientiane
(the capital city), Pakse(South), Savannakhet and Luang Prabang(North).
With an estimated population of little over 6.5 million people, Laos has one of the lowest income economies in the world: statistically speaking approximately 30% of the country's population live below the IPL, or the International Poverty Line, set at $1.25/day.
Tourist Attractions To Consider When Travelling To Laos
The country's culture is slowly flourishing, and there are many tourist attractions that are worth visiting here. The Vieng Xai or the Pak Ou caves are two of the most sought-after attractions in the country, and so is the ruined Khmer temple complex or Wat Phu (also known as Vat Phou).  Another popular attraction is the Gibbon Experience located in Bokeo Nam Kan National Park, where you can experience Zip line and stay over night in a Tree-house.
Sponsored Link
On the other hand, there are other significant monuments of great historical and architectural importance, such as the Pha That Luang or Wat Xieng Thong, the latter being widely considered as the country's most significant temple.  That Luang located in Vientiane, is an iconic temple and its picture can be found from stamps to front covers of magazines.
Luang Prabang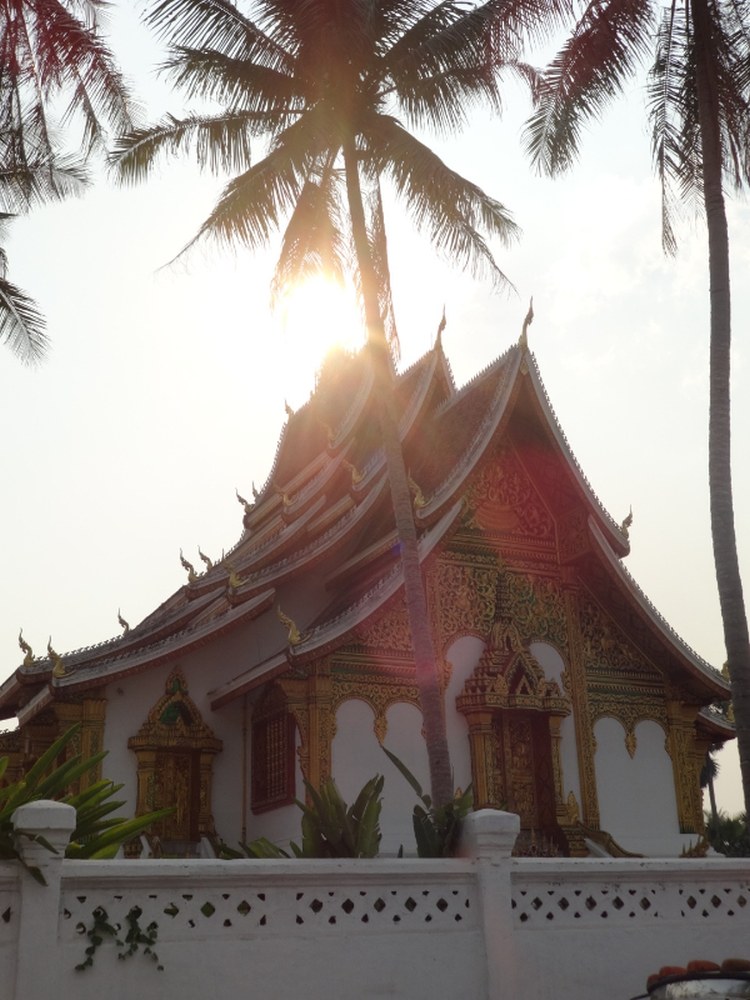 Probably the most popular tourist attraction of all, is the town of Luang Prabang, where it is a UNESCO world heritage site.  Many mention that it is a dreamy place of temples, monks, and where time kind of suspends.  Know for many temples, Luang Prabang has many unique regional food found at the many food stalls.  They are 3 daily flights from Vientiane to Luang Prabang and it's a 45 minute trip.
Plains of Jars

by Mr ATM
There is, however, one particular place that baffles both the locals and the tourists alike: the well-known Plain of Jars, located around the town of Phonsavan. What makes this tourist attraction so special is the fact that it features huge jars of unknown origin, that are scattered randomly all around the landscape – beautiful, mysterious and attractive at the same time, the Plain of Jars attracts thousands of curious tourists on a yearly basis.
Vang Vieng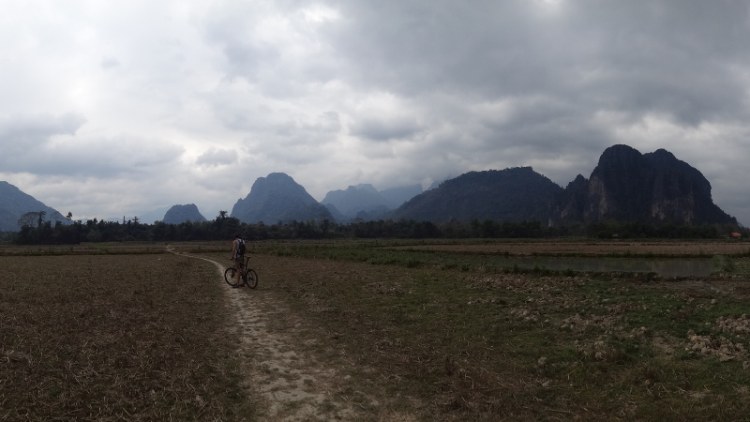 Vang Vieng is an interesting city, the fact it was known as a notorious place for young travelers to party.  Recently the Lao government has closed down illegal bars and estasblisments selling drugs.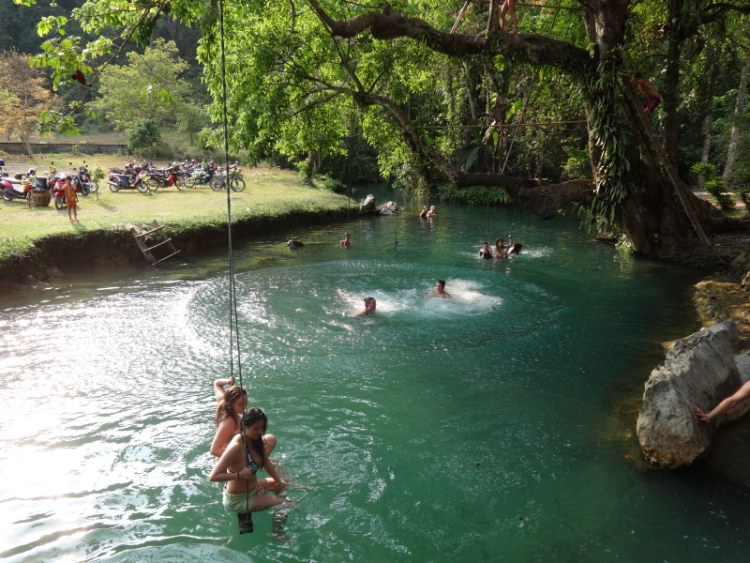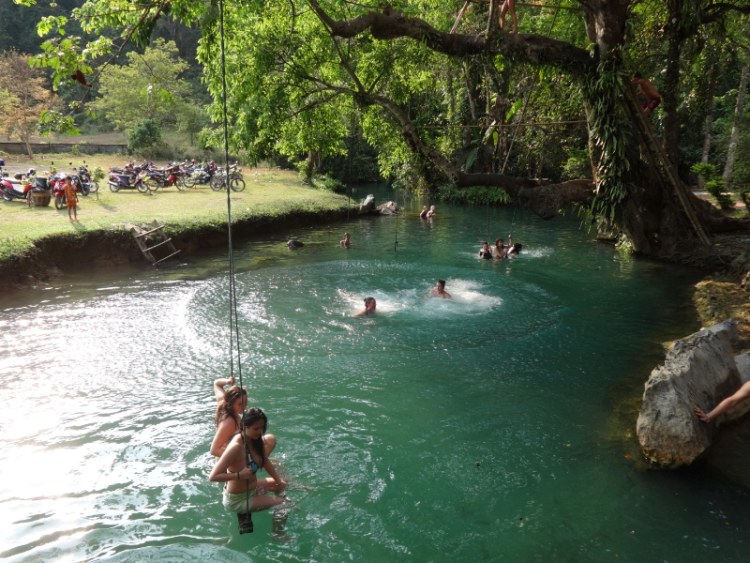 Today, Vang Vieng is still a hot spot for tourism for its beauty and its many attractions such as caves and lagoons.  Read more in detail of things to do in Vang Vieng today.