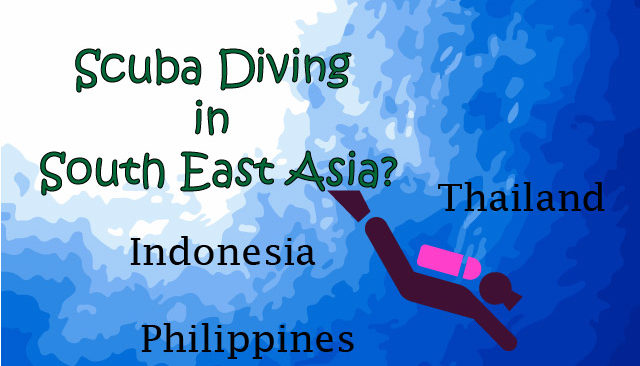 Top Places for Scuba Diving in Southeast Asia
Comprised of 11 countries subdivided into two geographic regions, Southeast Asia is surrounded with vast bodies of water that has been blessed with bountiful resources. This has made this Asian subcontinent to promote ecotourism where tourist around the world flock this tropical region of the earth whole year-round. Among the ecotourism activities you can enjoy is scuba diving. Since Southeast Asia is surrounded with water, you will have a long list of diving sites where you can enjoy and visit its underwater beauty.
Indonesia
One of the popular sites for scuba diving in Southeast Asia will take you to the thousand islands of Indonesia. Considered as the Turtle Capital of the World, diving in Gili Islands will give you this rare opportunity to see a good population of hawksbill and olive ridley turtles. The four islands of Raja Ampat located in the eastern part of Indonesia is one of the top diving destination in the world where it has been considered as the site with the most diverse marine life on Earth. If you plan for a dive in Raja Ampat, don't miss to search for the Wobbegong Sharks as it has been considered as the site's signature species.
With more marine life than humans, diving in Banda Island is the perfect place for you if you want a combination of great diving and serenity. This remote island off the southern part of Indonesia has a mild current with good visibility making it perfect for drift diving. Aside from pristine coral reefs, you will also have the chance to see whales and dolphins during your trip to the dive site. If you want to go muck diving, then Lembeh Strait is the place to be. This portion of the North Sulawesi sea boast a healthy population of small creatures like clownfish, shrimps, frogfish, seahorses and nudibranch.
Thailand
Considered as a diving haven, Thailand houses some of the world's best dive spots where you can explore clear waters and rich marine ecosystem. Koh Tao is known for wall diving and pinnacles surrounded with big fishes like the great barracuda. Reef diving in Similan Islands will be a perfect spot for beginners and marine life enthusiast where you can see barrel sponges, sea fans, harlequin shrimp and schools of blue fin trevally and jacks.
Aside from diving in fringing reefs, Koh Phi Phi is also known for its white sandy beaches where filmmakers flock this tiny island for their production set.
Philippines
With over 7,100 islands to choose from, Philippines has always been a crowd favorite for scuba diving. If you want to relive the history of the Second World War, then you should explore the 26 wrecks of Coron, Palawan. Belonging to the Japanese naval fleet, these wrecks are now filled with corals and fishes thriving in a clear turquoise waters. If you want a dive safari trip, then Tubbataha Reef should be on your list. Diving inside this national park located in the middle of the Sulu Sea allows you to enjoy diving at its fullest where you can go drift, deep, multi-level, night and reef diving in a vast and pristine reef system. If your flight will stop in the Visayan island of Cebu, then we suggest you should go to Malapascua island and go diving with Manta rays and the famous thresher shark.
Sponsored Link
This is just a short-list from a bucket full of diving sites in Southeast Asia. But what really stands out when you go diving in this part of the globe, aside from the beauty of its underwater environment, is the weather where you can enjoy a year-round of tropical climate which is a big factor when it comes to fun and enjoyment.