There is one thing that many travelers pass the opportunity to try in Laos and that is Laotian Snake Whiskey.  There are many reasons why, but probably one major reason is that there is a Snake in a bottle of alcohol.  The terror of this sight can be overwhelming, especially when the snake's mouth wide open in attack mode, even though its been dead for quite some time.
Folklore:
Because this species of Snake can mate for 26 hours at a time, it supposedly will pass this trait on to the person who drinks the Habushu.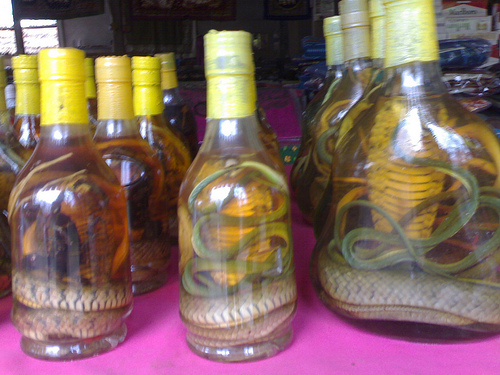 by jfxberns
Popularity
Snake Whiskey is actually popular in many regions of South East Asia and as well as Japan, where it is called Habushu.  Habu is the snake used, native to South East Asia, where it is part of the pit viper family.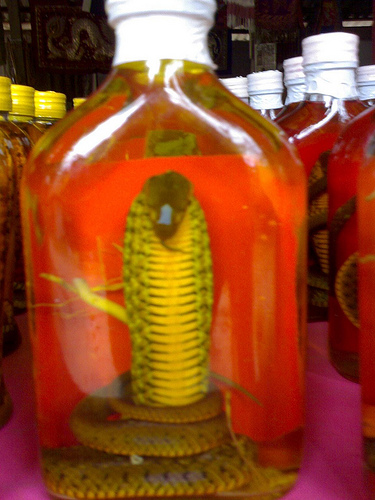 by jfxberns
Preparation:
Two ways:
Snake is killed by putting it on ice to be passed out, then the maker guts the fish only to be sewed up.  Snake is then thawed and during this process, the mouth opens up showing it fangs. Snake is then inserted in an alcoholic bottle for 4 weeks.
Snake is submerged in alcohol and sealed.  This snake is drowned in the process.
Below is a video of a traveler trying a shot.