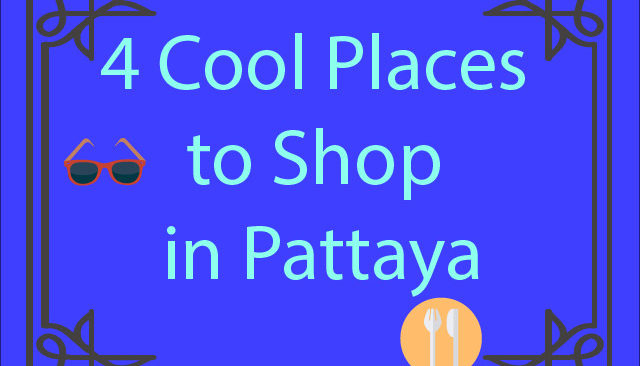 4 Cool Places to Shop in Pattaya
Pattaya is one of the most popular cities in Thailand (learn). It is also called the quiet fishing village, but nowadays it is now known as hot tourist spot.  It is also famous for shopping and you're probably wondering why?  Well because the products in the market are on the cheaper side of things but you will find many goods that are of quality.
Most of the people are spending their cash mainly just for chilling and spending time along the beaches but we just want to mention that the shopping is not too shabby.  There are many outdoor shopping streets and have fun getting lost. Definitely, this is the best place for enjoying four bars, shopping and beaches. Do you want to know the 4 top most shopping areas in Pattaya?
The outlet mall in Pattaya:
In all the outlet malls you will find local and many international products. You can actually get discounts and you can save a lot of money if your bargaining skills are good.  One outlet mall that just opened up has over 300 brands from around the globe.
If you are hungry and thirsty then you can enjoy the high-quality Thai restaurants located throughout.  There is quite a variety and you will be coming back for this reason.
A Central center shopping mall in Pattaya:
This mall is located on the north side of the Pattaya. This is one of the attractive malls in Thailand. It contains over 180 shops.  You will be entertained to good shopping, 5 cinema screens for more entertainment, and again the excellent food provided by the food courts.
You made a perfect choice if you are choosing this central center mall you will find many large varieties of shops that sell cool and fashionable clothing, jewelry shop, electrical goods etc. When compared to the shopping from a nearby areas, this mall has a going for its amazing architectural design and the style make it a great atmosphere.
Mike shopping mall:
This mike shopping mall is located on the south side of the Pattaya.  You will find a vast array of shopping stores selling many goods from clothing, art and food.  It is known for its cheap prices and the best part is that it is cool by the air-conditioning especially when it is hot outside.
When it comes to the environment of this will find that the customer service pretty good an outstanding to some degree.
Pattaya night bazaar:
This Pattaya night bazaar is the best outdoor shopping place for the tourist.  You can buy many souvenirs and trinkets as you walk pass the stalls.  It starts around noon and ends very late but that this is dependent on the season.
Other things you can find are funky clothing, mobile accessories and electronic gadgets.  Make sure to check out the food court that is located behind the bazaar and you will find many tasty Thai foods.