Fun and Interesting Facts about Cambodia
Fun and Interesting Facts about Cambodia
Cambodia, also called the Kingdom of Cambodia, is a gorgeous and vibrant south-east asian country surrounded by Thailand, Vietnam and Laos. Cambodia is a land of forests and paddies irrigated by the Mekong River and the Tonlé Sap.
Interesting Facts on Cambodia
Cambodia's

national flag is the only one in the world

 which represents a building: the famous Angkor Wat temple.
More than

half

of Cambodia's population is

15 years old or younger

.
Cambodia's first source of income is the

garment industry

. The second is

tourism

.
Like most SE Asian (Buddhist) countries, it is considered

very rude to touch

someone else's head, as it is considered a sacred part of the body.

90%

of Cambodia's population are

ethnic Khmer

.
Cambodia has a

monarchy

, although it is

only symbolic

and holds no power over government. Cambodia's king is named Norodom Sihamoni, and he is partly of European descent on his mother side (French-Italian-Khmer).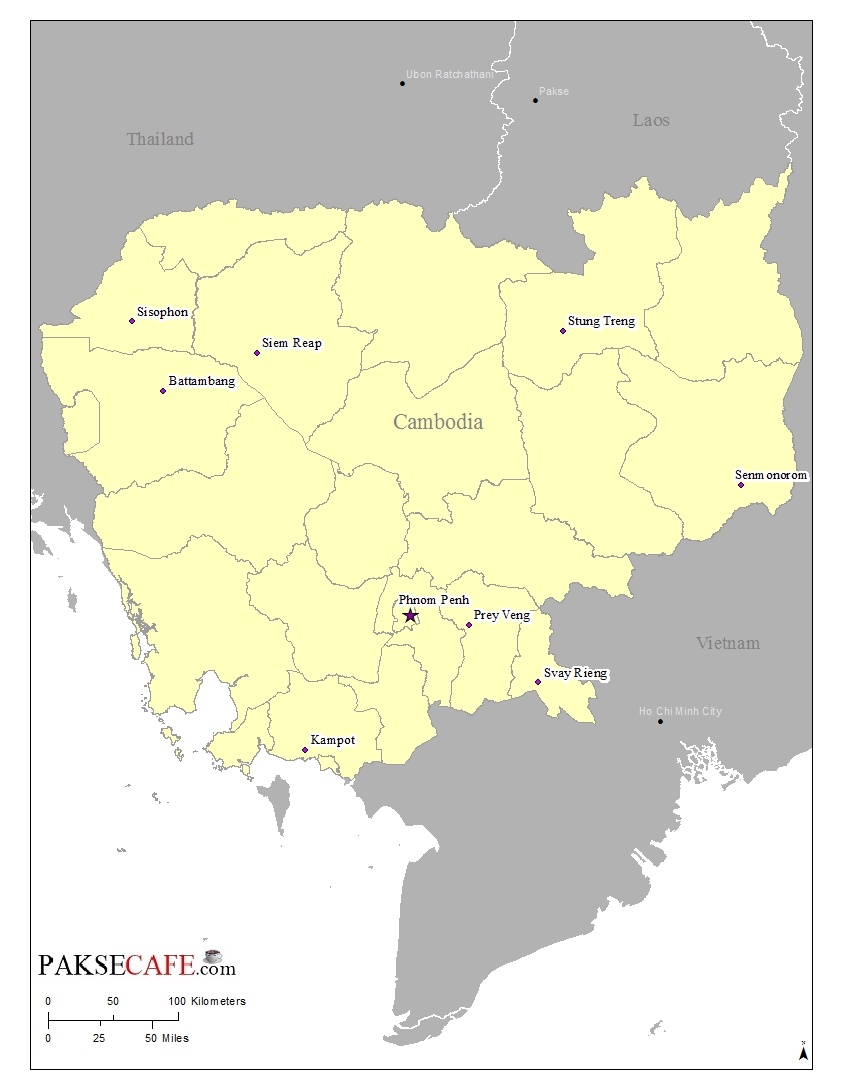 Sponsored Link
Places to Visit in Cambodia
Cultural tourism is especially popular. Famous tourist spots include the Angkor Wat Hindu temple located in the Siem Reap province.  There are 9 important to know when visiting Angkor, make sure to read it.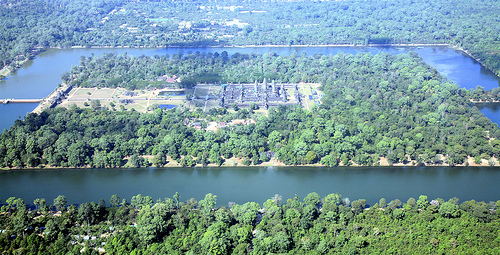 by jurvetson Over view of Angkor Wat
The breathtakingly beautiful Royal Palace, built in 1866 and situated in the country's capital, is also very popular with tourists. The palace's intricate detailing, with its cream walls and golden roof, is said to be the country's crown jewel.
Geography
The country is entirely situated in the tropics and borders Laos to the northeast, Thailand to the north and west, and Vietnam to the east and southeast. The change of seasons is marked by monsoons, and the country has two very distinct seasons: a humid, rainy season which lasts from May to October and a dry season from November to April. The country often faces floodings during the rainy season.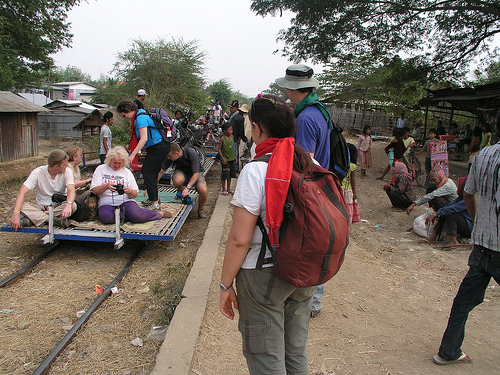 by Benecee – Bamboo Trains – A soon to be extinct tranport in rural Cambodia
Brief History & Tragic Past
Cambodia was a French protectorate from 1867 to 1953. Remnants of French culture still live in Cambodia: French is still spoken by a large portion of older cambodians. French is also the language of instruction in several universities. Cambodian French, a French dialect, is spoken all over Cambodia. The main language of the country is Khmer.
Cambodia has a rich but also tragic history. The country has been scarred by coups, revolutions and wars. The Khmer Rouge rebellion left the country ravaged with most of its intellectual elite decimated.
During the Khmer Rouge, led by Pol Pot, doctors, lawyers and teachers were targeted, in what has been called an ethnic cleanse or genocide. Pol Pot and his followers wanted to create an agrarian society, based on Maoism and Stalinism. It is estimated that 25% of the country's population was killed in the span of four years, from 1975 to 1979. Although not as explosive as it once was, the political situation in Cambodia is still complicated today, with waring political factions and corruption plaguing the country's political system.
Major Cities
Cambodia's largest city, and capital, is Phnom Penh: it is the economic and industrial center of the country and boasts a population of 2.2 millions. Cambodia as a whole has a population of 14.8 millions. Cambodia is made up of 25 provinces, including the capital Phnom Penh.
Religion
Cambodia is overwhelmingly Buddhist. 96,9% of its population practices Buddhism, which is the official religion of the country. Muslims make up 1,9% of the country.