Why Visit Tarutao National Marine Park, Thailand
If you are familiar of the show Survivor(US version) and happen to watch it 10 years ago, you probably remember that season's show was based in Thailand. That is "Survivor Ko Tarutao".  You probably remember all the beaches, coconut trees, fishes and the beautiful sun.
10 years later, it is now a popular destination among tourist because of the National Park which was establish in the 70s.   It is also been given ASEAN heritage park status by UNESCO in 1982.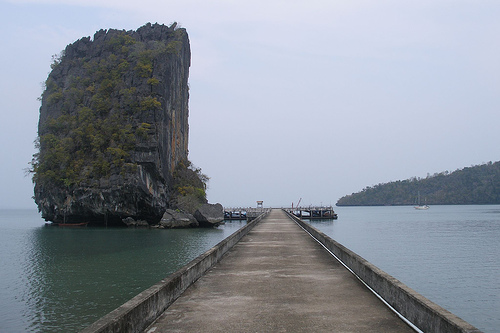 by Argenberg
Tarutao National Marine Park is located in the Andaman Sea just off the coast of the province of  Satun in southern Thailand.  The National Marine Park includes 51 islands scattered across 70 km and covering an area of 1490 Square KM.
Each island is compose of different vegetation, like white sandy beaches, mountains and mangrove swamps.  Ko Tarutao the biggest island, has many bays and full of lush evergreen forest with many species of plants and wildlife.
One island called Koh Lipe is known for its many coral reefs and the diversity of marine life.   In years past, the population of coral reefs have been hit hard by over-fishing which causes damages to coral reefs.  Today the population has been getting healthier with better protection from being part of the Tarutao National park. since the 70s.
Some of the amazing species that can be found are dolphins, sharks, rays and certain whale species such as the Sperm Whale.
Cool places to visit in Tarutao National Park:
Crocodile Cave – Tourist experience on boats travelling through mangroves
Luu Doo Waterfall – Located in Son Bay(3 KM from the Park), is considered a small Waterfall which boast cool underwater rock formations.  A nice place to swim.
Pantaemaraka Gulf Park – Has Pine tress and sandy white beaches.