9 Interesting facts about Kuala Lumpur, Malaysia
1. The first people to set up camp at the modern location of Kuala lumpur were migrant labourers from China in search for tin. Out of 87, only 18 survived because of malaria and other diseases
2. Kuala Lumpur was built on the abundance of tin in the mid to late 1800s which caused a major civil war.
3. In the early years, Kuala Lumpur was small in size and the population was made up of 4 major groups of people. These 4 groups are Malay, Chinese, Indian and the British.  They all had major impacts along with other smaller groups in the creation of Kuala Lumpur.
4. Kuala Lumpur International Airport is consistently voted best airport in the world.
5. Arguably the biggest Hindu celebration of Thaipusam happens in Batu Caves near Kuala Lumpur. This festival is famous for devotee's piercing their skins with different metal skewers, sometimes up to 108 skewers to show devotion.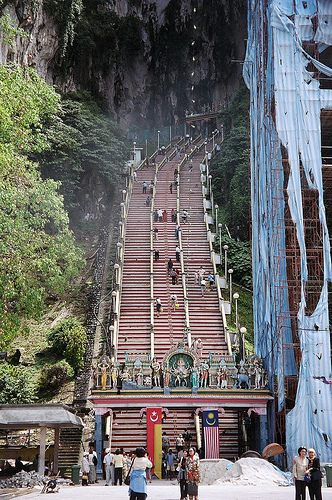 by carolynconner – Batu Caves
6. A huge resort with 8000 hotels rooms is located on top of a hill(6000 feet).  Hotel residence ride on South East Asia fastest cable to reach the peak. The hotel just North of Kuala Lumpur.
7. A popular market called central market located near Chinatown was once a fish market but is now one of the largest center for handicrafts. A must visit!
8. Kuala Lumpur is not a coastal city as many believe, an inland city where wild animals and thick jungles used to exist.
9. Kuala Lumpur has a distinctive Islamic identity with interesting Moorish architecture similar to North Africa and southern Spain(Ruled by Moors for 800 years from 700AD).