Why Visit "Po Nagar (Cham Towers) Nha Trang Towers" in Vietnam?
Constructed around 780 A.D., the Po Nagar Cham Towers have endured as one of the many monumental achievements of the ancient Cham civilization in Vietnam.
Located in downtown Nha Trang next to the Cai River in the mountainous region known as Cu Lao, the Po Nagar Cham towers are an breathtaking example of the ornate and highly complex ancient Southeast Asian architecture that characterized the Cham civilization.
The towers are commonly believed to have been influenced by the Buddhist culture of ancient India, which is why they share so many similarities with the famous Angkor Wat temple complex in Cambodia.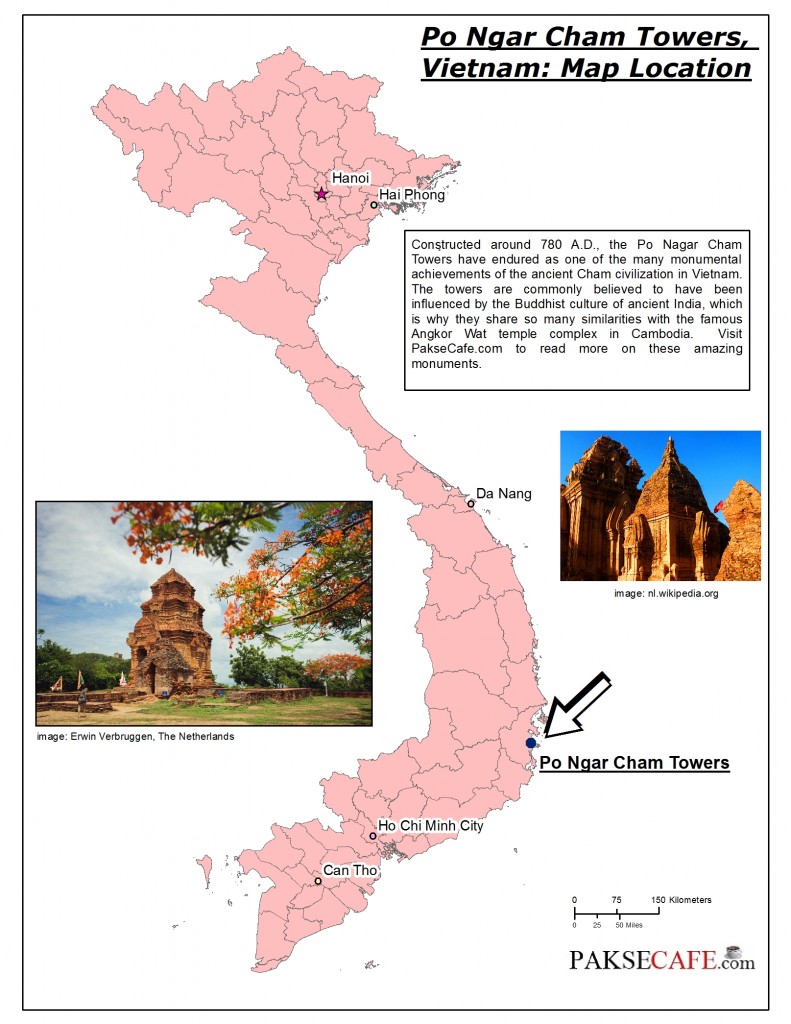 The towers have endured the centuries with very little variance from their original design, except for the absence of the Golden Dome, which was stolen by vandals. The charm, beauty and unmistakable style of the four Po Nagar towers inspire wonder, which perfectly fits the original purpose for their design, which was to honor four distinct deities.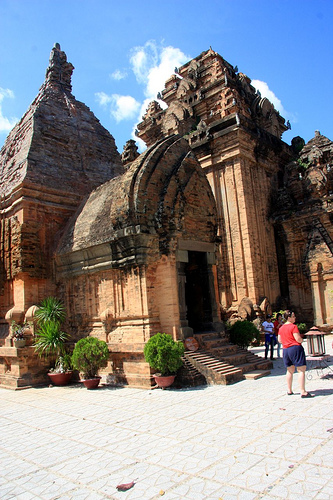 by Bruce Tuten
The tallest of the four towers is approximately 75 feet tall and was finished in 817 A.D. It contains a statue dedicated to the deity Ponagar, who according to legend taught the local villagers the art of weaving, as well as various agricultural techniques. The northwestern tower was built to honor Sanhaka, a master woodworker and father figure to Ponagar.
The southernmost tower was built in honor of Ganeca, Ponagar's daughter. The central tower was constructed in honor of Cri Cambhu, a fertility deity. To this day, many couples seeking to have children will visit the central tower in order to pray and seek favor from Cri Cambhu.
Sponsored Link
History buffs will greatly appreciate the large collection of ancient relics found within the Po Nagar Cham tower complex. Photography enthusiasts will love the beautiful views and vistas that can be experienced from the riverside promontory upon which the towers stand. Not only will the natural scenery captivate you, but the culture of the local Cham people will charm you as well. Local residents often stage elaborate dance shows, welcoming visitors and onlookers with warm hospitality.
When planning your trip, keep in mind that one of the best times to visit the Po Nagar Cham Towers is at the end of April, when the annual Thap Ba Festival is held in Nha Trang. The Po Nagar Cham towers are a fundamental element of the festival, as travelers from all over the world come to honor the deities that the towers represent. Without a doubt, a visit to this enchanting location will be a trip that you will never forget!