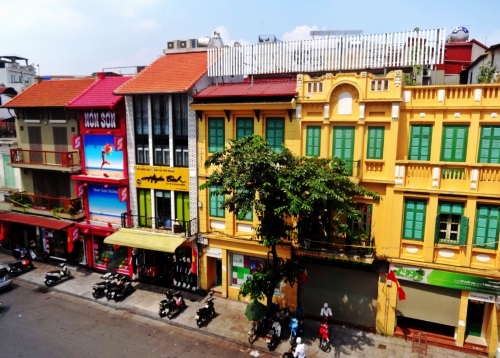 Checking Out The Old Quarter of Hanoi, Vietnam.
It seems that each major SE Asian city has a focal point for tourists around which their visit revolves – as Bangkok has Khao San, Phnom Penh has the riverfront, and Ho Chi Minh has District 1, so Hanoi has the Old Quarter (Top 5 places to see in Hanoi).
Though distinctly different than other city hubs in terms of size and, more notably, organization, the Old Quarter feels like a city in and of itself.
It is a place for shopping, people-watching, meeting like-minded travelers, visiting tourist attractions, and, at its best, witnessing the uninhibited and idiosyncratic Vietnamese life that takes place daily, regardless of our attention to it.  The Old Quarter seems to encapsulate both modern convenience and local culture in an unparalleled way.
So, what can you expect out of your visit to the Old Quarter?
In a word: chaos. The bustle of life in Hanoi never seems to slow down. You will be amazed by the traffic(bike, cars, motorbiking, people), the sheer number of shops and stores that overflow on to the sidewalk, the winding of the streets and alleyways, the locals lounging on tiny plastic chairs, and the endless number of vendors selling unidentifiable fruit, pastries, and meat.  *Note -Be sure to read our guide on motorbiking in SE Asia.
The Old Quarter is a testament to Hanoi's completely organic growth; a city with over 1,000 years of history, it essentially sprang up little by little with no apparent plan (according to a Vietnamese friend: in the not so distant past, individuals didn't have to get permission from a governing body to build a home, shop, etc., which is reflected in the haphazard "organization" of the city).
The streets are random, complicated, and ideal for those looking to get hopelessly lost.
When wandering down the various alleyways, you may observe that particular streets are full of shops selling one particular product; though seemingly counterproductive to the idea of "competition", this is not accidental.
Historically, there were 36 different streets conveniently deemed, for example, "shoe street," or "fabric street," which made the finding and purchasing of goods very simple.  Though the city has changed dramatically, you can still witness the leftovers of such organization – expect to find jewelry on Hang Bac, bamboo products on Hang Buom, silk on Hang Gai, shoes on Hang Dau, and paper products on Hang Ma.
Sponsored Link
A very cool place to check out is a handmade leather goods store called Mammon, where you can buy leather goods or create your leather products.
Young party-seeking travelers tend to flock to Ma May – one of the better-known streets for bars, as well as tour agencies. Hang Bong is a long street full of shops, souvenirs, and great food(read about being a vegetarian in Vietnam). And, of course, what would a visit to the Old Quarter be without a walk around Hoan Kiem Lake, the city's famous landmark (and the site around which Hanoi has grown).
The best way to experience the Old Quarter is just to set out and explore, with little or no plan; wind down the random alleyways, stop in one of hundreds of cafes for a Vietnamese coffee , try some pho bo on the street, enjoy the mix of modern and French colonial architecture, and immerse yourself in the pandemonium.