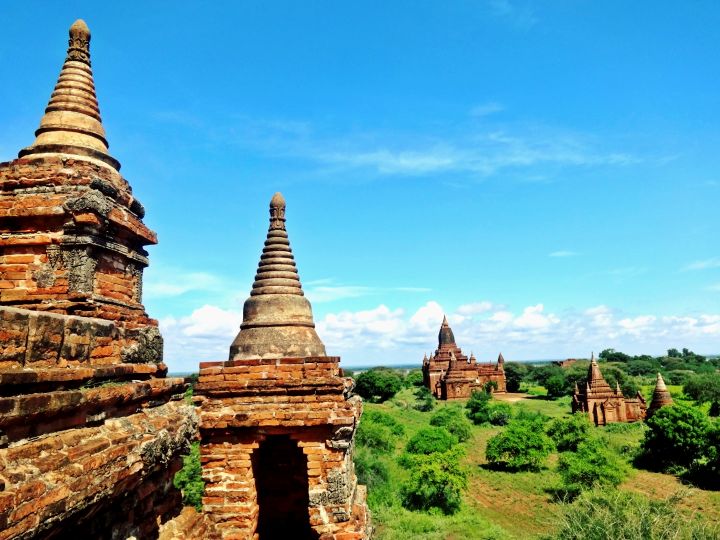 Exploring Bagan's Temples of Myanmar! Travel Info & Hot Air Ballons?
Bagan Archaeological Zone is an area in central Myanmar that is densely packed with ancient ruins and temples–more than 2,200, to be exact. Having earned its nickname as the new Angkor Wat, Bagan has seen an influx of tourism along with the opening of the country's borders. As of now, however, the tourist infrastructure, and more importantly, the hordes of people, have not reached Siem Reap standards; this means that now is the ideal time to visit. Here is what you should know when considering or planning a trip to Bagan.
1. Entrance Fee
Similar to Inle Lake, the government of Myanmar requires an upfront fee merely to enter the town. For Bagan, the fee is $15 or 15 Euros (which are not equal…but that is no matter to the fee collectors). You should plan accordingly, especially when traveling by bus (there are no ATMs near the ticket office). The ticket is valid for one week, and some temples will actually have a checkpoint to make sure you purchased a pass; make sure you bring it everywhere with you.
2. Various Zones
There are actually three separate towns within the Bagan Archaeological Zone within which you can stay. If you are on a backpacker budget, Nyaung U is the best option–it's slightly north of the temples, and you can find a double room for around 15,000 kyat ($15).
Old Bagan is right in the center, and is probably the most convenient place to stay (in terms of location and options for food); however, this means it is slightly more expensive.
New Bagan (to the south) was, obviously, more recently constructed; that said, it is a bit lacking in character, but the accommodation choices are the nicest. You can't go terribly wrong with any choice; they are all close enough to the temples to explore.
3. Travel Options
There are a few different ways to check out the temples. The most popular is by e-scooter (an electrically charged bike, basically), which can fit two people. These typically go for around 6,000 kyat for one person ($6) or 8,000 kyat ($8) for two. Make sure to check that the bike is charged and runs well prior to renting; the worst way to end a long, hot day of exploring is walking your bike home. You can rent an actual petal bike for slightly cheaper, though you should be aware that Bagan is extremely hot and humid; it's not unheard of for someone to have a heat stroke while biking in 40 degree sunshine. Just be sure you are well-hydrated and in good physical condition if you plan on renting a bike.  Also make sure to read our guide on motorbiking in SE Asia.
The two other options are to rent (1) a horse drawn carriage or (2) a taxi to drive you around. These are obviously more expensive choices, but are convenient in that someone else is leading you around, and typically gives you some background / historical information on the temples. The horse carriage, while seemingly stylish, is quite slow; it typically costs about 10,000 kyat ($10) daily; an air conditioned taxi with a guide is anywhere from 40,000-50,000 kyat ($40-$50).
4. Maps
It would be wise / very helpful to bring your own detailed map of the temples. There are a few reasons for this. For one, with 2,200 options, it's good to do research before-hand of what exactly you want to see, if anything in particular. Also, the maps given out by hotels are terrible; they are no where close to scale, and end up confusing more than assisting. Maps can be found online, or in the Lonely Planet book, etc. Be aware that there are so many temples that many do not have named; they are instead labeled with numbers on the map.
Sponsored Link
5. Must-See
The indisputable must-see in all of your Bagan exploration is the sunrise. Climbing up one of the tall temples in the dark to watch the morning light is simply magical– especially watching the hot air balloons take off (this is another way to explore Bagan, but obviously very expensive). It's also good to find a nice temple for sunset, though sometimes it gets too hazy to see anything in the evening.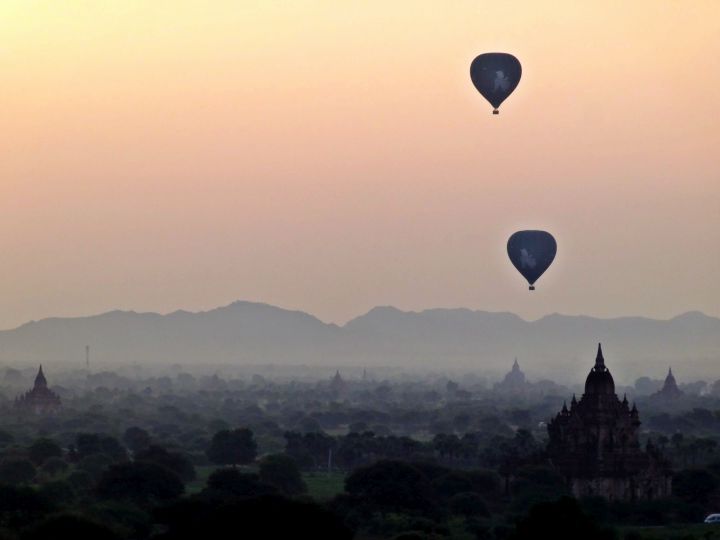 You really can't go wrong with anything you explore; all the temples are incredible in their own way. Sometimes the best temples are the ones nobody visits: the random numbers on the map that are entirely empty. That said, visitors should definitely try to see Ananda Temple ( the holiest), Thatbyinnyu Temple (the tallest), and Dhammayangyi Temple (the biggest), if nothing else.
No matter how you choose to explore or what you choose to see, the temples of Bagan are a truly magical experience that should not be missed.