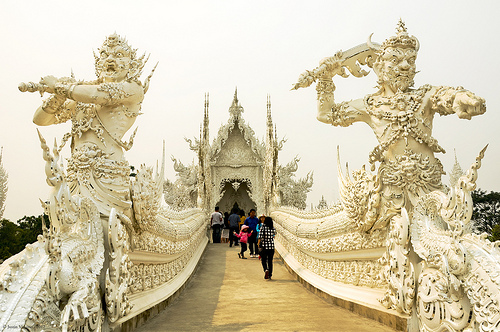 Visiting Chiang Rai and Beyond: What to do!
Chiang Rai is undoubtedly shadowed by its popular neighbor, Chiang Mai. While many choose to do a quick day trip here to the Golden Triangle and the white temple (Wat Rong Khun) from Chiang Mai, there's more than just that to offer. If you have a bit of extra time, be sure to squeeze some of these other places that are in or around Chiang Rai in Northern Thailand.
Phu Chi Fa Forest Park
Using Chiang Rai as a base, you can make the few hour drive to this beautiful forest. Making it here to enjoy sunrise, sunset, or both will certainly be worth your efforts. The trail that leads to the viewpoints is just under 2 km. The most spectacular part, once you get up top, is the sheer cliff drop. If it's misty out, you will think that the cliff never ends. When it's nice and clear, you will be humbled to see the mighty Mekong River that leads to Laos on the opposite side.
Singha Park
No, this isn't a park full of Singha beer, that's call a bar. These 8,600 rais of land are covered in fruits, like strawberries and starfruit, vegetables, and barley fields galore. The sunn hemp goes on for miles and the pretty yellow flowers that bloom make a stunning shot.
There's also a challenging bike trail if you're up for it. Sightsee around the beautiful area and then have a romantic meal at the onsite restaurant overlooking the park. Yes, you may drink a Singha with your meal!
The Market
The Chiang Rai market is teeming with authentic goods; you just might need a new suitcase. Many of the hill-tribe people offer their unique goods at these markets, you might see these things in other parts of Thailand, but supporting and buying straight from the source is not only gracious, but it will be cheaper too. You will be in the right spot to feed the beast in your belly after all that shopping, there's plenty of yummy Thai food here too.
Wat Huay Pla Kung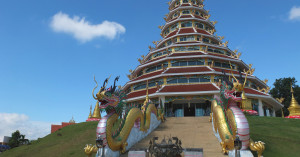 Here's a different looking temple that you don't see everyday in Thailand. This Chinese-style temple soars up nine stories high. Feel free to walk up and see what's up at the top, but the view from the bottom is just as glorious too with its dragons adorning the entrances and accented gold roof top.
Huay Mae Sai Village, Akha, Bakufu Village
Sponsored Link
So you have seen the city-Thais around plenty of times, but what about the people out in the middle of nowhere? There's nothing else to see in these villages but that.
If you happen to have a motorbike and want to ride through these rural spots, you will see just how the hill tribe people live. This is Thailand many years ago.
Since Thailand can get hot, if you're near Huay Mae Sai, there's a waterfall by the same name nearby. Not exactly the most spectacular one, but it's sure to be a refreshing dip in fresh water.