A Pictorial Guide to Food Prices in Hanoi, Vietnam
The cost of eating in Southeast Asia is wildly different than in Western countries; the inexpensive cost of food and travel is a huge appeal for tourists and expats seeking to spend time in this part of the world.
As far as food prices in Hanoi, there are certainly different tiers to choose from.  Below are a list of 6 different ways one can acquire food.
1. Street Food or a 'Bia-Hoi'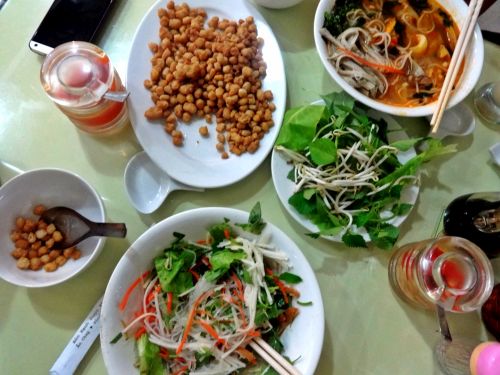 This is how to eat like a local, both food-wise and price-wise. You will find bia hoi's in Hanoi constantly overflowing during meal times; the food is savory, and the prices are absurdly cheap. There are different options, though the most common are pho (a bowl of noodles with vegetables and meat), bahn mi (sandwich), or bun cha (grilled pork and vermicelli noodles). A meal on the street will typically cost less than 20,000 VND ($1), and no more than 50,000 VND ($2.50).
Noodle soup: 25,000 VND per bowl ($1.25)
Vietnamese fried sweet corn: 30,000 per plate ($1.50)
2. Vietnamese Restaurant
There are many restaurants that serve Vietnamese food that are frequented by locals and foreigners alike (one of the most common in Hanoi is called Quan An Ngon ). A sit-down meal at a restaurant is typically more expensive, though if you are eating Vietnamese food, it is still relatively cheap. Expect to pay anywhere from 30,000-100,000 VND per plate at a sit-down Vietnamese restaurant.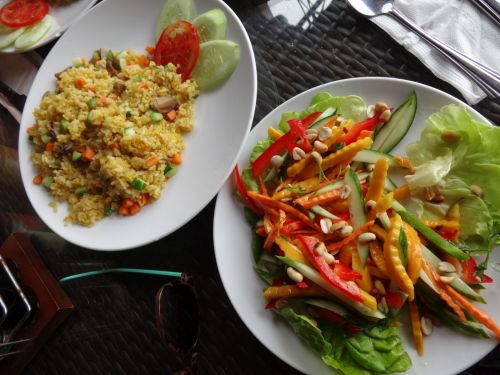 Fried rice: 40,000 VND ($2)
Mango salad: 60,000 VND ($3)
Sponsored Link
3. Western Food
Western food runs at a higher price  simply because of the cost of ingredients; a lot of what we are used to eating back home is not readily available in SE Asia, so the cost of importing that food raises the price customers pay at restaurants. There are great Western options in Hanoi, and the cost varies greatly between them (the most expensive restaurants can be found in the Old Quarter and on West Lake). On average, you can expect to pay anywhere from 80,000 VND-200,000 VND for a Western meal.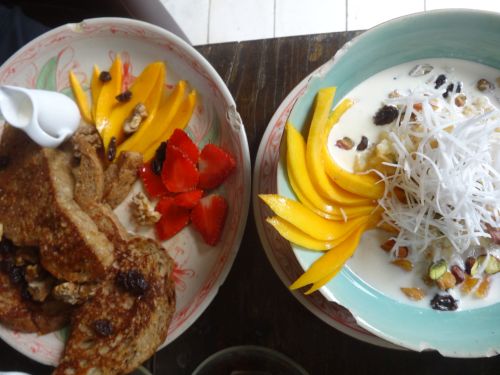 Quinoa and fruit porridge—Hanoi Social Club: 120,000 VND ($6)
French toast—Hanoi Social Club: 100,000 VND ($5)
Falafel and goat cheese salad—Tet Art Décor Cafe: $180,000 ($9)
4. Organic Food
Unfortunately, the organic options in Hanoi are very limited. There are a few spots around town that serve organic food, and the prices are quite high. Zenith Yoga is one café in the Old Quarter, and Tet Art Décor is another in West Lake. There is also an organic/fair trade grocery store in West Lake where you can buy groceries; the prices are much higher than Vietnamese markets.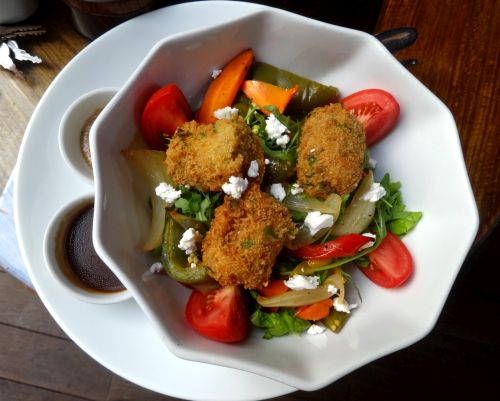 -Organic Sampler Plate—Zenith Yoga Café: 220,000 ($11) for two
5. Street Markets
If you live in Hanoi and are interested in grocery shopping, the markets on the street are definitely the best and cheapest option; this is where locals get their groceries. You can buy grains, produce and vegetables, bread, and various kinds of meat from markets like these. They are extremely cheap and bargaining is rampant; however, you should be aware of the cleanliness of your food and ALWAYS wash with bottled water . You can get a bahn mi (loaf of bread) for 5,000 VND ($0.25), and any kind of produce for under 20,000 VND ($1).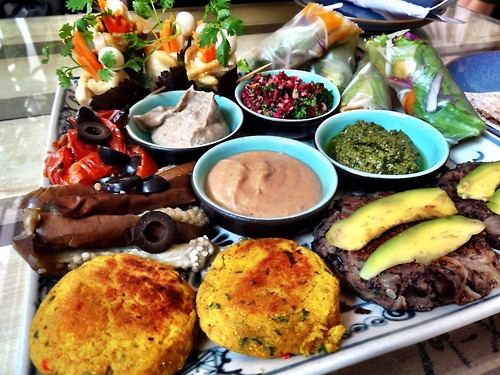 Two carrots, two cucumbers, a broccoli, an avocado, a bunch of bananas, and two pineapple: 80,000 VND total ($4).
6. Grocery Stores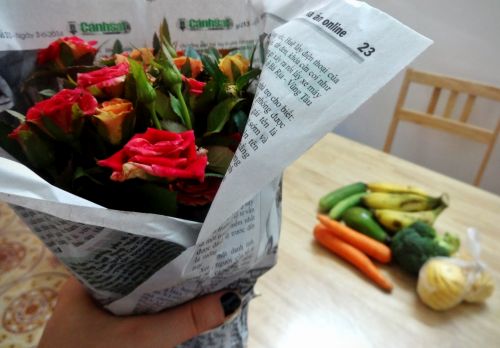 There are various grocery stores throughout Hanoi; some are most frequented by locals, while others are aimed specifically for expats. Intimex and Lotte Mart are the two biggest grocery store chains; you can find all kinds of grains, dairy products, and snacks here (however, the options are extremely limited compared to Western grocery stores). There are also grocery stores, most specifically in West Lake, for expats; these include L's Place (an international grocery store) and Betterday Fairtrade and Organic Store. Prices differ greatly between the two, with the latter being more expensive.