6 Questions to Ask when Travelling on a Bus in Southeast Asia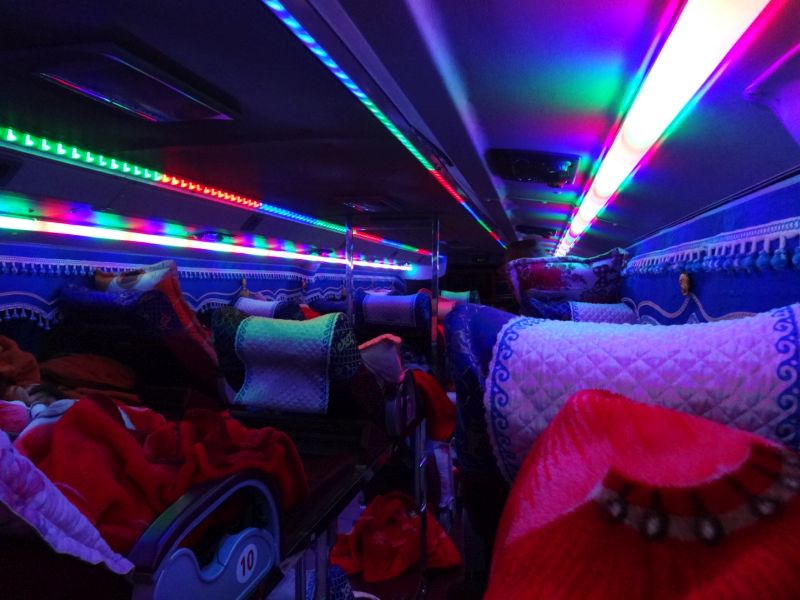 6 Questions to Ask when Travelling on a Bus in Southeast Asia
There are many options for getting around (and in between) different countries in SE Asia; though you can take a rented / private car, or sometimes take the train…it is almost always the cheapest and most efficient option to take a bus. Bus companies have sprung up in nearly every SE Asian city.
The buses are of varying quality and price, and bus companies will frequently try to rip you off (getting you to pay for a "VIP" bus when they are all the same, or not telling you what is included and then picking you up in a mini van…yikes). It's important to know what kinds of questions to ask when booking a bus, as well as how to best prepare yourself for overnight (and longer) bus rides.
1. Is there A/C on the bus? – On hotter days, a bus during the afternoon without A/C is your biggest nightmare.
However, it's also good to be aware if there is A/C on the overnight buses, because it can be literally freezing (there were buses in Myanmar summer that blasted A/C high enough that people wore winter jackets to sleep…seriously!).
2. Are the seats reserved or open seating? – Especially if you are traveling with another person (or a group) and want to sit next to each other, you have to be upfront about it. Bus companies will sometimes sell you two seats on opposite ends of the bus, which is a bit of a buzzkill to figure out as you are boarding.
You should ask if there is open seating (in which case, get there a bit earlier to reserve a good spot), or if the seats are reserved (and if so, which seats you are getting).
3. What are the seats like? – There is a large difference in the comfort between a sleeper bus and a local bus. If you want to lay down on the bus, you should make sure you are booking a bus with reclining seats (or sleeper beds), as opposed to seats. Or, if you are traveling down the day and don't want to be laying down, be sure you are booking a bus with seats.
4. What kind of bus is it? – SE Asian bus companies can be a bit manipulative – referring to everything as a 'bus' when some are tour buses, some are mini vans, and some are literal town cars. You should ask for pictures of the buses if it is possible, and if not, ask questions about how many seats are on it, or if it is a full bus / mini bus / van.
Sponsored Link
5. Are there stops? – Some bus companies will drive around town picking people up and dropping them off, or stopping to pick up goods at random towns throughout the night. This can be annoying, and make the trip take quite a bit longer. You should ask the bus company if the bus goes straight through, or if they stop to pick people up on the way.
6. Is there a bathroom?- Because, obviously.