Top Five Places to Visit while in Thailand (Map)
Many tourists often spend hours wandering around a country looking for cool places to visit, and often  jumping from one tourist hot spot to another.  Which is great for the travelers who enjoy creating their own adventure and not being stress with planning an itinerary.  However, there are many who like to plan ahead and do research.
Even though its fairly easy to find information on a travel destination on the internet, especially countries like Thailand, it can be overwhelming with hundreds of things to do.  For simplicity and for the first time visitors, here are the top Five places to visit in Thailand.
To give you an logistics perspective.  Take a look at the map below of Thailand to see where these 5 places are located before reading onward.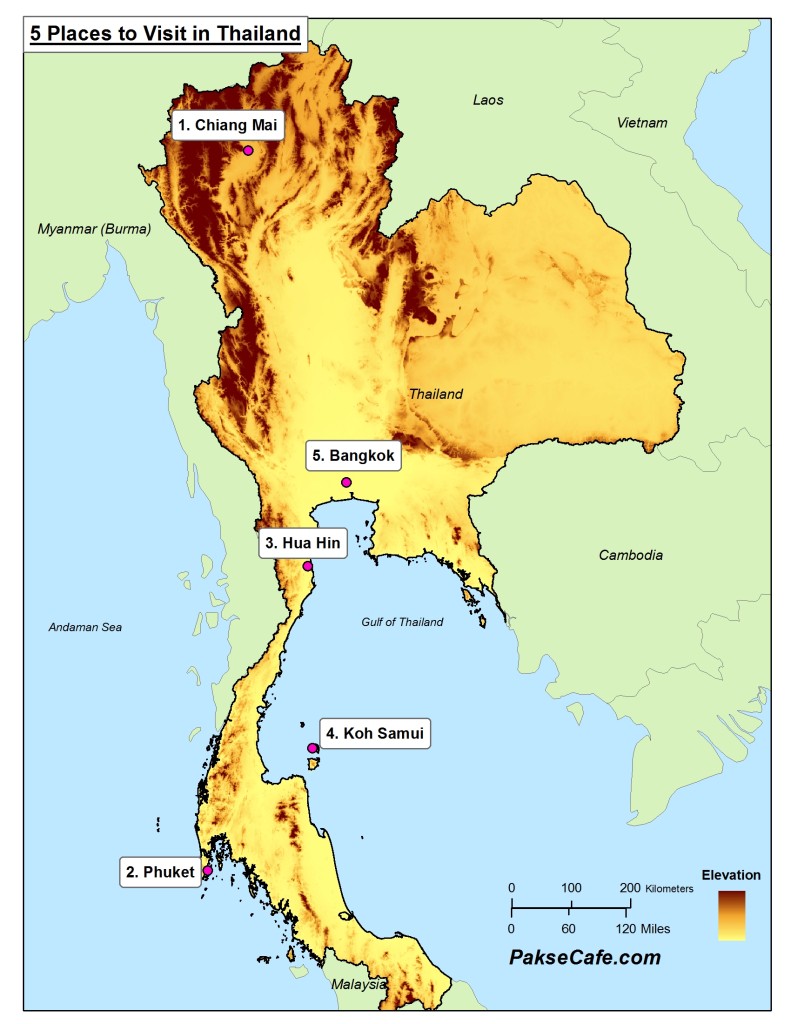 1.Chiang Mai
Chiang Mai is the second most visited place in Thailand behind obviously Bangkok. You can't miss out on this little town nestled in the mountains.  As you can see from the map, Chiang Mai is located within the highest elevated region of Thailand in the north. Many tourists describe Chaing Mai as the most, if not, beautiful city in Thailand. The trip takes about an hour via plane from Bangkok. With world-class restaurants to tiny little food stalls and from 5 star hotels to no-star guest houses, Chiang Mai offers everything for a tourist.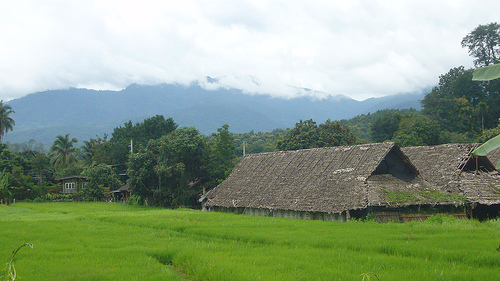 by Yazan Badran – Chiang Mai Mountain House
2.Phuket
Phuket boasts sandy beaches, beach huts, five star hotels, cafes, restaurants and more. One of Phuket's claims to fame includes the world's best snorkeling and scuba diving sites. Visitors spend their days enjoying all that the beaches and ocean have to offer. At night, it's easy to find fresh seafood, Thai food, western dishes, and nightclubs bustling with fun.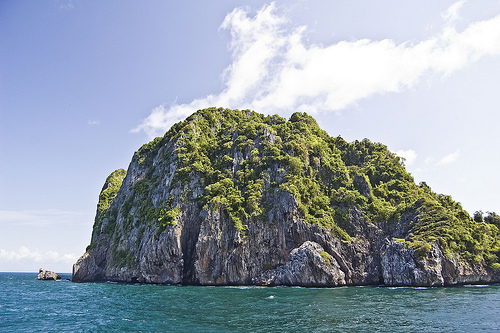 by chee.hong Phuket
3.Hua Hin
Hua Hin is a seaside resort about 3 hours away from Bangkok by car. Hua Hin is the home of the King of Thailand and while considered to be a quiet small town, recently it has been booming with shops, restaurants, cafes and internet cafes. Any kind of ethnic food you can think of from Asia can be found in Hua Hin. Other activities that draw the attention of tourist are horseback riding on the beach; relaxing by the poolside; and it's one of the best places to get a tailor-made outfit.  Also check out the top 9 things to do and see in Hua Hin.
Sponsored Link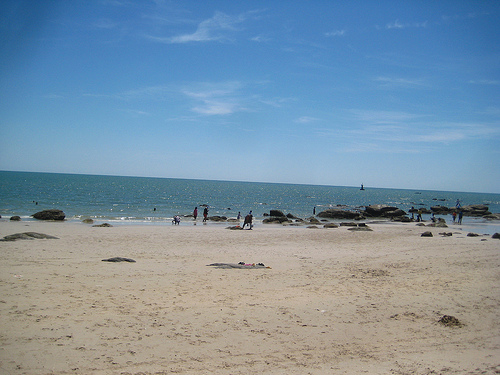 by neajjean – Hua Hin Beach
4.Koh Samui
Koh Samui is one of the most famous island in Thailand and seems to be nothing short of heaven for tourists. Popular among young travelers, the beaches are white; the diving is amazing; cool coral reefs and clear blue water make it the perfect stop for those seeing the tranquility of the ocean.   The island is known for having some of the most exotic birds and wildlife.
Then as the night moon rolls in, the nearby island of Koh Pha Ngan  turns into a party haven with the Full Moon Party which is held every month. If you have an opportunity to visit Koh Samui, try to plan it so that you can make it to one of these awesome parties.  There has been negative publicity recently with these parties.  Like in any place in the world especially at parties or festivals, be aware and follow common safety rules.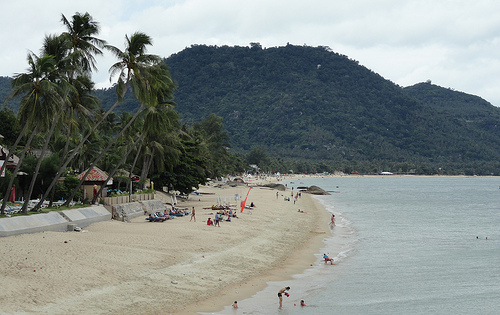 by travelourplanet.com – Koh Samui, Lamai Beach
5.Bangkok
Of course you can't forget Bangkok, the capital of Thailand (Factoids). You could probably spend months in this international tourist hot spot as many do.  Here are 5 major tourist attractions to see.
Wat Arun (The Temple of Dawn)
Grand Palace & Wat Prakeaw
Floating Market
Wat Pho
Khao San Road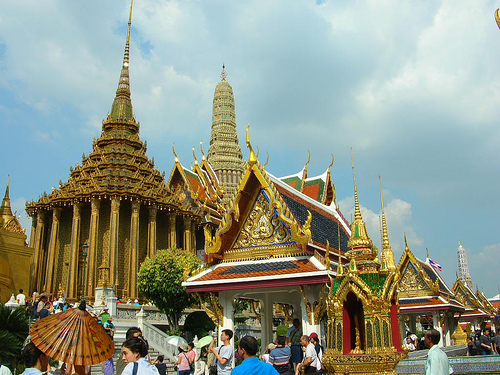 by Enchant_me – Grand Palace, Bangkok