The Best Philippines Beaches to Visit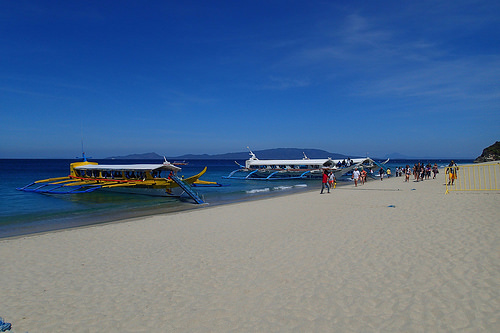 The Best Philippines Beaches to Visit
Dotted with over 7,000 islands, this archipelago has become a popular tourist destination where you can indulge and enjoy in numerous beaches. Stretching for thousands of miles, the country's coastline is filled with white powdery sand and crystal clear waters surrounded with bountiful natural resources making this tropical island a great place for a vacation.
Pagudpud Beach
Let us start your vacation by going up to the northernmost tip of Luzon in Pagudpud Beach. This long stretch of white sandy beach in Ilocos Norte is comparable to the beaches of Hawaii except for the crowd and tall buildings.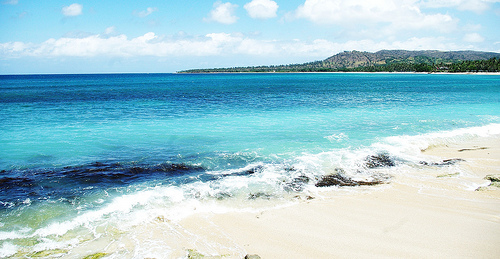 by majill
Your 10-hour bus ride will be worth the trip where you can bathe in crystal clear waters in less crowded beach making this a perfect place for a romantic vacation. Don't forget to take a photo souvenir of the famous giant wind turbines which indicates the eco-friendliness of this sleepy coastal town.
Puerto Galera
Being close to the highly urbanized Manila doesn't mean you cannot enjoy the scenic beauty of nature. Travelling 2 hours by land and an hour by boat leads you to the locally favored Puerto Galera.. This island paradise in Oriental Mindoro has white sand typical to Philippine beaches.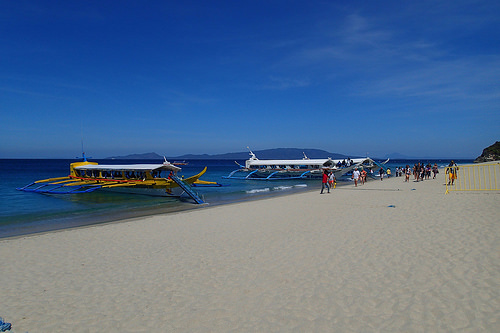 by usiruk
But being close to Manila has its own downfall as hotels and restaurants are piling up on this natural paradise. If you are into relaxation, do not go here during the long holidays as crowds will jam packed this island where nightlife is very much alive. But during off season, you can own this island paradise to yourself as tourist activity is minimal and nature is at its best. Swimming is not just the only activity offered in Puerto Galera but the healthy corals in Apo Reef allows you to go snorkeling or scuba diving giving you a glimpse of Mindoro's underwater bounty.
El Nido
We now go west and head to the virgin island of Palawan. A 5-hour land travel from Puerto Princesa City will take you to El Nido which is dubbed by CNN as the Best Beach in the Philippines. How is this possible?
Sponsored Link


by JackVersloot
Just imagine you are floating in pristine crystal clear waters with majestic limestone formation infront of you while hearing the unwinding tweets of the birds. Just perfect tranquility. Since you are already in Palawan, you might as well drop by at the world famous Underground River.Recently declared as one of the New 7 Wonders of the World, you will have the chance to explore the longest navigable underground river in the world spanning 8 kilometers.
Boracay
Did I miss something? Of course, who would ever forget the world famous and internationally acclaimed Boracay. Earning several citations including the recent Best Beach in the World by Yahoo and Trip Advisor, this tropical island paradise will just surpass your expectations. You can walk in the white sandy beach, but take note that it is not just white sand, it is white powder quality sand that is very soothing to your feet even if you are walking barefoot.
The downfall of Boracay is like Puerto Galera where the crowd can triple-up during peak season. If you are looking for nightlife at the beach, this is the place to be. But you have to remember, the reason you are going to this wonderful Aklan island is the powder quality of the sand, not the nightlife.
Once your vacation in the Philippines(learn fun facts) is over and you were not able to get rid of the nightlife giving you a bad hangover while on your way back home, you can't help but be thankful for the hospitality of Filipinos and can't just simply forget the wonderful experience and maybe utter the words "WOW Philippines" or "It's more fun in the Philippines"