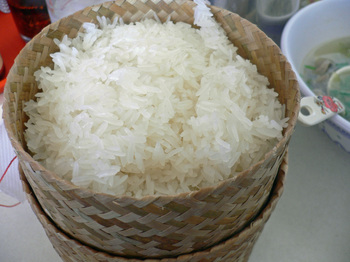 Lao Sticky Rice, with Eggplant Dip
PakseCafe dish of the day.  Lao Sticky rice with eggplant dip.
"Steamed sticky rice is an essential part of every meal in Laos. In most cases, it is preferred to regular steamed rice. True to its name, steamed sticky rice sticks together in one big heap.
In Laos, the best way to eat sticky rice and eggplant dip is with your hands. And, this is how it is done: simply tear a bite size of rice from the sticky rice heap, roll it into a small ball, and enjoy with grilled eggplant dip or any Lao dish of your choice."