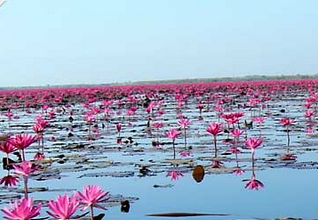 World's second strangest lake: Red Lotus Flowers, Thailand
Travel and Leisure recently ranked Udon Thani's lake as the second world's strangest lake in the world. Located in North Eastern Thailand and 45 Kilometres from Udon Thani City, Lake Nog Ham is right behind the world's strangest lake, Jellyfish Lake in Palau.
Best time to visit is in october, during the sprouting of 1000s of red lotus flowers(Red aquatic) which makes for an incredible view.  The lake is no small lake either, at 8000 acres.
Tourist can take guided boat trips that many described as wonderful, smooth and just an overal relaxing journey.
Called among the residents just as Talay Bua Daeng which means the Sea of Red Lotuses, the lake is better seen throughout sunlight hours prior to midday. The pure beauty attracts many tourists to enjoy the lively pink coloration of the lake.
To a view a video click here.