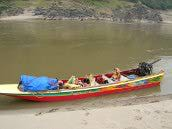 On a Fast Boat to Laos
"Hearts pounding. Engine roaring. Six of us tourists were tucked proactively into crash position with knees in chest and dinged helmets.
The fast boat to Laos from Thailand takes between six and eight hours, depending on the water and the tenacity of your Redbull-gulping driver. That's a long time to be sat on a vibrating wooden bench with an unsuppressed V-8 engine behind you redlining to maximum RPMs.
The driver expertly whizzes by boulders, makes hairpin turns, and skims across the tops of whirlpools and eddies that would spin bigger boats like children's toys. Not so reassuring, he's typically just as nervous as the passengers."
Source(Greg Rodgers): Continue Reading @ goasia.about.com