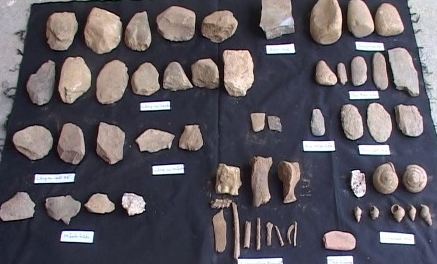 6,000-year-old tombs discovered in Vietnam
Tombs built 6,000 years have just been excavated in Bac Kan Province in the Northeast region, reported newspaper The Thao & Van Hoa (Sports & Culture) this week.
Six tombs have been dug up at the province's Na Mo Cave in Huong Ne Commune, Ngan Son District, 180 kilometers north of Hanoi.
Local archaeologists used the absolute dating method on snail shells found inside the tomb to determine that the relics dated back more than 6,000 years ago.
The items, of which four have been exposed to the open air, were found together with broken skeletons excluding skulls and teeth, said excavation team leader Professor Trinh Nang Chung of the Hanoi-based Institute of Archaeology.
That the team couldn't find any traces of the human skulls and teeth at the site raised the hypothesis among the scientists that the corpses were victim to "headhunting" practices in which the early peoples of Southeast Asia would steal skulls to rob the dead of their power.
Source: Continue Reading @ thanhniennews.com