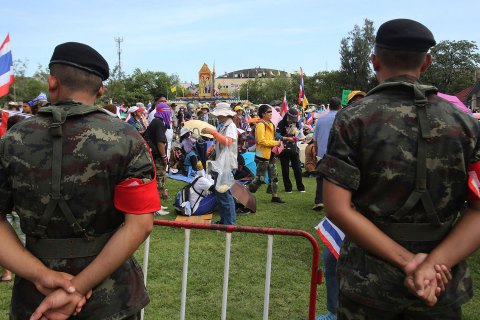 Thailand violence stops ahead of King's birthday
Protesters intent on toppling Thailand's democratically elected prime minister plan to press their struggle again Wednesday with a peaceful march on Bangkok's national police headquarters, one day after a sudden truce in honour of the King's birthday this week ended a spate of increasingly fierce street fighting.
The pause in violence came suddenly on Tuesday, when Prime Minister Yingluck Shinawatra ordered police to end their resistance against masked mobs who had begun attacking their positions beside her office compound with homemade rocket launchers and petrol bombs.
The move was timed to coincide with celebrations of the King's birthday this week, a holiday that holds deep significance in the Southeast Asian nation. It was widely seen as offering demonstrators a face-saving way out of a crisis that has killed four people and wounded more than 256 since the weekend.
Source: Continue Reading @ thehindu